Oh the joys! I just had a super fluffy fabric filled day and I am giddy with glee!!!!!! I have also been a ver busy girl since the last time I posted. This will be a picture filled post with lots of goodies.
First up tonights project. My youngest wears cloth diapers part time and i was really needing a pair of longies for her. Sadly my favorite WAHM knitting godess was unable to take a custom order and nothing else quite appealed to me. SO I ventured into the world of wool and found some great remnats at my local fabric shop and embellised it a bit :D I am so thrilled at the results. Let's just hope they fit. LOL.
This pod was a special thing I did for a fairy who never recieved her parcel. I also made her a little japanese knot bag.
And my first forray into furniture. I repadded and upholstered he chair and made the little pillow. It's less then prefect but SO much better then it was.

I recently tried my hand at a teething giraffe like the ones seen at
starbright baby
. These are one of my Darling Daughters favorites too. Now I don't think that I will personally ever attempt one of these again. My first one came out more like an eeyore then a giraffe. LOL This is #2 and it was part of a wrap MT custom order.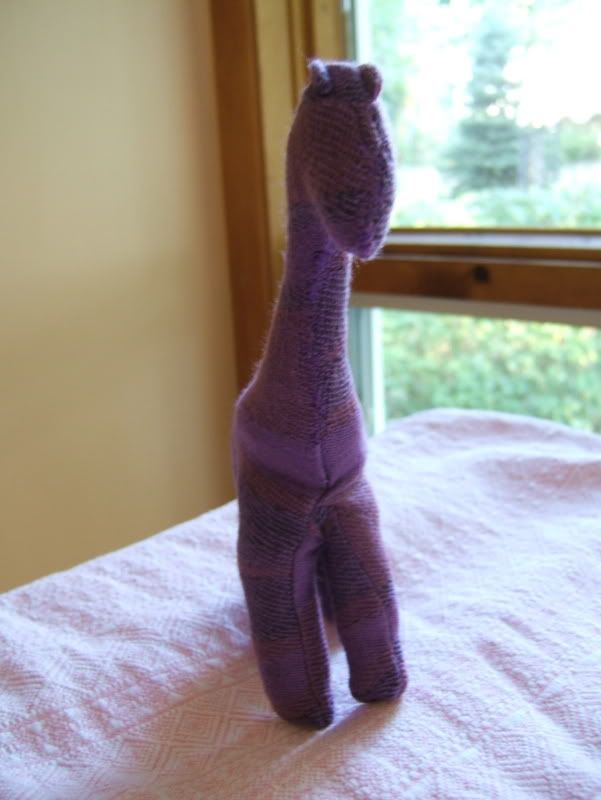 This is the MT. It has lightly padded straps and waist and is happily cuddling a new one.
And here are a few misc. things a chalk placemat and a case for my 2nd daughters pump.